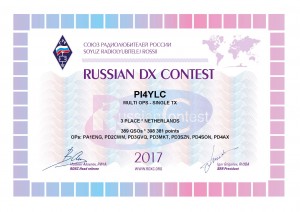 Deze maart is een radioactieve maand voor het contestteam van de Dutch Young Ladies Club: vanaf 1 maart zijn we al actief voor het Dutch YL-award 2018, zie www.pi4ylc.nl/award. We zijn ongeveer op de helft en er zijn bijna 500 unieke stations zijn gewerkt.
Komend weekend zal het contestteam weer meedoen met de Russian DX contest (RDXC). Dit is een 24-uurs contest waarbij zoveel mogelijk Russische oblasten, een soort provincies, gewerkt moeten worden in CW of SSB (zie www.rdxc.org ). Het wordt de zesde keer dat we meedoen! In 2013 en 2014 waren we te gast bij PI4TUE in Eindhoven, waarbij we in 2014 zelfs een "Battle of the Sexes" met de OMs gehouden hebben. In 2015 en 2016 werd er gecontest met een velddag setup in Ell (Limburg) en 2017 waren we te gast bij Hans PA0Q (voorheen PA1HR). Iedereen bedankt voor de gastvrijheid!
Onder de call PI4YLC zullen we deze keer met acht (!) YL-operators meedoen vanaf het home-QTH van Ramona PD9YL en Raymond PA5DX in Rectum (Wierden). Het is leuk om te zien dat we door de jaren heen met steeds meer Young Ladies een operatorteam kunnen vormen. We hopen dit weekend met elkaar veel mooie verbindingen in de contest te maken!
Cu in RDXC 2018!